Don't Miss a Moment in Enterprise Mobility
Get the latest with the Inside Mobility Newsletter.

The Top 5 Reasons
to Subscribe to Inside Mobility
It saves you time.
Your days of scanning the headlines from multiple news sources are over. We will deliver the news you need, to you.
It's a quick read.
The articles are written to be brief and packed full of all the juicy details you want.
It delivers insider perspectives.
Nobody knows Enterprise mobility like the experts at BlackBerry®.
It will alert you to special offers.
Hear about promotions and programs before everybody else.
It's obligation-free.
Signing up is free and you can unsubscribe at any time.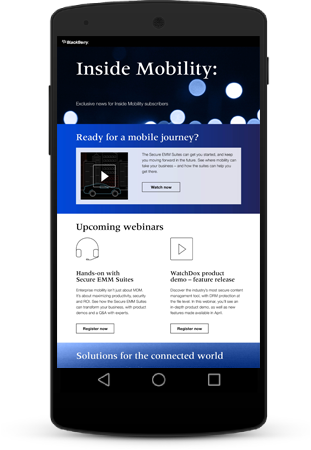 Please fill out the form below to subscribe to the Inside Mobility newsletter. You won't regret it.
Thank you for your interest!
Stay tuned for the next edition of Inside Mobility that will be delivered to your inbox.
Please note that if you are a current BlackBerry Technical Support customer, you will receive this newsletter content as part of the Solve newsletter.
You can later withdraw your consent through links available in our Privacy Policy, or by writing us at: Privacy Office c/o BlackBerry Legal Department, 2200 University Avenue East, Waterloo. Ontario, Canada, N2K 0A7
Privacy Policy
© 2017 BlackBerry. All rights reserved. BlackBerry®, BBM® and related trademarks, names and logos are the property of BlackBerry Limited and are registered and/or used in the U.S. and countries around the world. All other trademarks are the property of their respective owners.